3 Days DUBAI Itinerary for First Timers (All Details Inside)
Planning a trip to Dubai? Here is my 3 days Dubai itinerary where I am giving you as much details as possible. Read before to travel!
Dubai is a dream destination to many, including me. I am grateful that I recently ticked-it-off my travel bucketlist. My Dubai trip was as memorable as it could be. If you are regular reader of this blog, you must have read my previous posts on Dubai, if not, I will link all of the posts at the end of the article. In this post, as the title says, I am sharing my honest 3 days Dubai Itinerary for first timers. So, lets begin!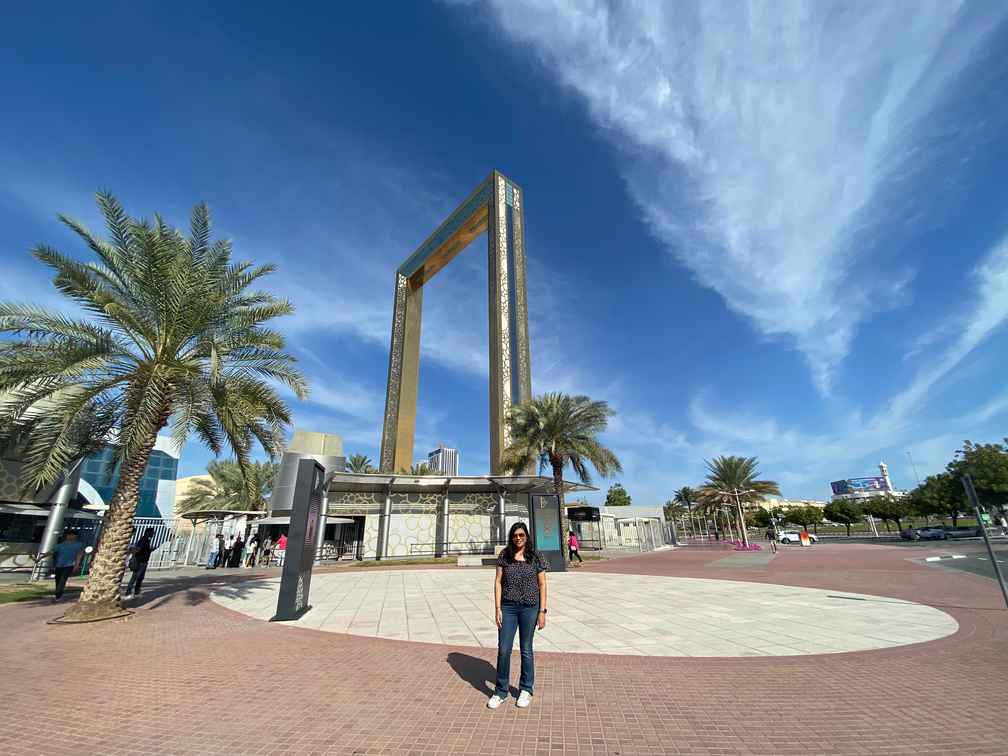 My 3 Days Dubai Itinerary
Arrival Day:
On this day, I checked into my hotel, took shower, changed clothes and stepped out. I arrived in Dubai around 1:20 pm and had the entire second half to myself. You too can book a flight that reaches during the first half of the day, so that you get half day to explore something.
What can be done in a half day: I visited Dubai Creek where Al Seef is located, walked around had coffee & croissants at the most iconic starbucks in the world. After that, went to Dhow Cruise for Dinner.
Day 1:
After breakfast, I went to the Jumeirah Mosque (Drive through), Zabeel Palace (residence of the Shaikh Rashid, they have Horses made of gold, drive through), La Mer Beach, Burj Al Arab (you can go inside by buying tickets, otherwise skip it), Hotel Atlantis (drive through/visit the water park optional), Jumeirah Beach (this is beach from where you get a perfect picture of Burj Al Arab in the background), Dubai Spice Souq, Dubai Gold Souq, Dubai Grand Souq (all of these markets are located next to one another, I would advice you to explore spice and gold souq and then take a cab to reach Grand souq) (from grand souq, take a ferry, cross the river and reach the other side), then explore Meena Bazaar (famous for shopping), visit Shiva temple (optional), Baniyas Square (famous market of electronics shopping) and done.
Here, you can do some modifications like –
Start with Grand Bur Masjid, Explore all the markets (excluding Baniyas Square), then the beaches during the sunset time as it looks really beautiful there and then visit Baniyas Square and end the day. You can also skip Baniyas Square and visit the Global Village (it is a grand version and international version of Delhi Haat, haha sorry for bad example).
Day 2:
Start with The View Palm Jumeriah, Museum of future, Wings of Mexico (optional, its just 10 mins from Mall of Dubai), Dubai Mall (Dubai Mall Aquarium and Underwater Zoo), Burj Khalifa To the Top (Burj Khalifa is inside Dubai Mall), The Dubai Fountain (it is outside the Dubai Mall, within the premises) and end the day.
Day 3:
Start your day with The Dubai Frame, Miracles Garden and Dubai Desert Safari.
Departure Day:
I booked my return flight of 9 pm, so I had full day to explore. You too can do the same. On this, day you can either visit any of the famous malls like Ibn Battuta Mall or try sky diving or if you skipped any of the market, you can visit that as well. I decided to explore the Old Dubai City and stroll across the lanes.
So, this was my 3 days Dubai itinerary.
If you have an extra day, you can explore places like Bollywood Park, Legoland etc. OR you can go for a day tour to Abu Dhabi.
Also note that:
Don't miss Palm Monorail (it a special monorail for Palm Jumeirah, for amazing breathtaking views)
Shop perfumes, spices and souvenirs from Meena Bazaar, don't forget to bargain, shop keeper quoted 150 aed for a perfume and gave it to me for 100 aed, you got the idea right?)
If you prefer Indian cuisines, then there are so so many Indian restaurants. My suggestion would be Rang Mahal (JW Marriott Marquis), Aryaas (Near Dubai Creek, South Indian Cuisine), Bikanerwala (mostly inside malls), Sarvana Bhawan, Bombay Chowpatty (mostly inside malls) etc. Apart from this, all famous chains are there like MCDonalds, Pizza Hut, Starbucks etc.
Water is expensive there, just giving a heads up
Get a Dubai Nol Card the day you arrive, (1 card per head), this card works for Govt Cabs, Metro, Buses, Trams and Water buses as well. Minimum balance is 20 aed. Also, either get it recharged at any metro station or carry cash for top up in the bus. In cabs, mostly they accept all means, better to confirm before the ride.
Have more questions? Ping me on my INSTAGRAM.
Also read:
How Expensive is DUBAI for INDIAN Tourists? Budget Explained!
10 Iconic Wonders of Dubai that You Must Visit
Dubai 1 Week Cost Trip from India – Practical Budget