5D4N in Daejeon — Here's why I'll be back in Daejeon really soon!
From dazzling light exhibitions to jaw-dropping hot air balloon rides, Daejeon is a true Korean gem!
When you think about travelling to Korea, common places that come to people's minds are Seoul, Busan, or even Jeju. But for our readers who love all things related to Korean culture and travel, you might be on the lookout for something new to do in Korea. So, as someone who's just been to this Korean city, I implore you to visit Daejeon! It is the fifth-largest metropolitan city in Korea and a leader in the science and wellness industry.
Now I know we've previously written about this exciting city, but this is a fresh, first-hand experience of Daejeon. While I've been to Seoul and Jeju before, Daejeon allowed me to look at Korea with a fresh perspective, and I hope reading my experience below will inspire you to give Daejeon a chance as well!
Also read: 8 Hidden Wellness Gems in South Korea for a Therapeutic Escape From Your Busy Routine
Day 1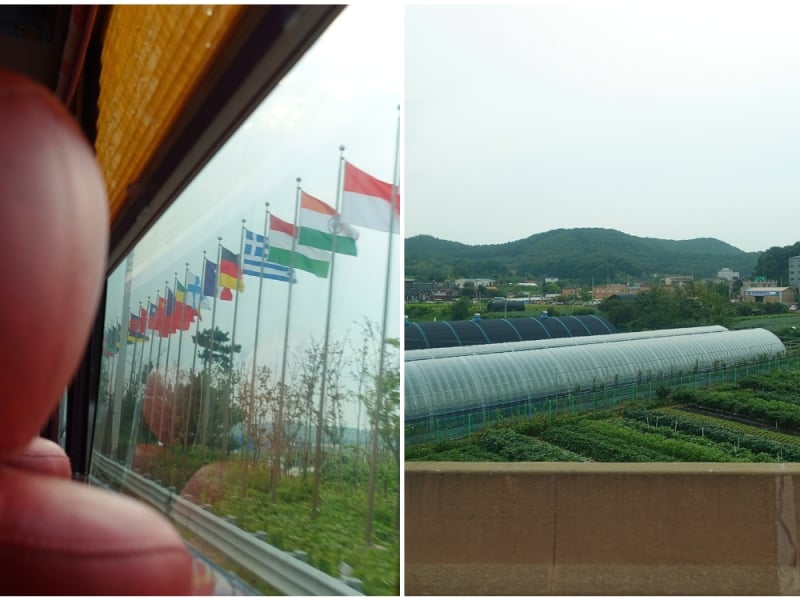 Daejeon is located in the centre of South Korea, so if you're travelling from Incheon Airport, you can get to Daejeon either by the KTX or by car!
Upon arriving at Incheon Airport, I boarded our tour bus for a two-hour ride to Daejeon. As the tour bus rolled past the highway, I enjoyed the view of the farms, factories and greenery.
Top things to do in Daejeon: Slurp on some kalguksu, Daejeon's representative dish!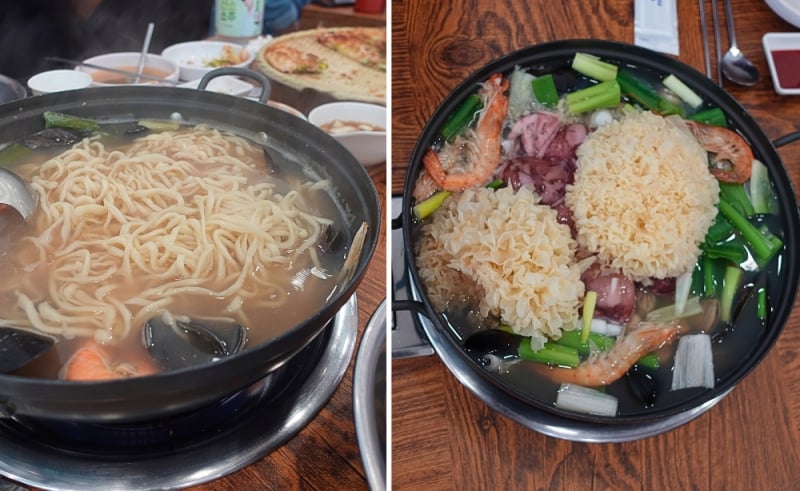 Upon arriving in Daejeon at noon, we were brought to Yuseong Seafood Kalguksu for a comforting, warm bowl of soup. Kalguksu (Knife-cut noodles) is the representative dish of Daejeon, so it was an appropriate first meal to have the moment we arrived. The fresh seafood made the broth incredibly sweet and the noodles were chewy!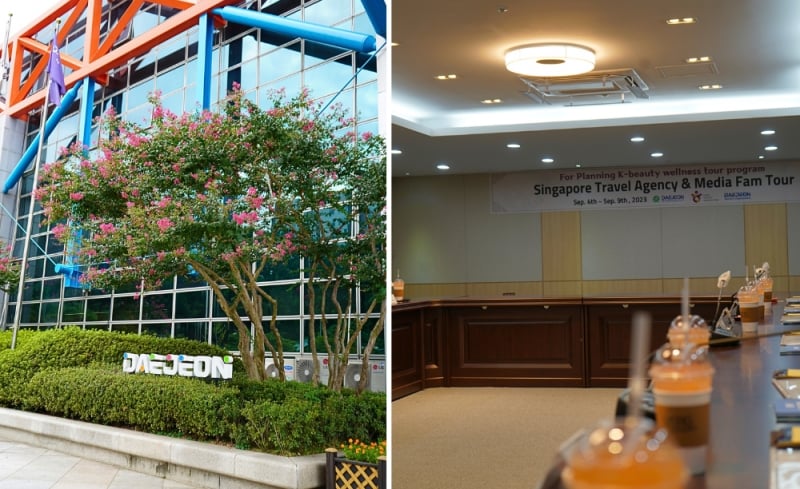 In the evening, we headed to the Daejeon Tourism Organization building for a Medical Wellness Briefing. We met the industry representatives in a briefing of our trip ahead. It was incredibly surreal to sit in a boardroom like this! I felt like I was in a Korean drama where the main character bursts into the meeting room…IYKYK.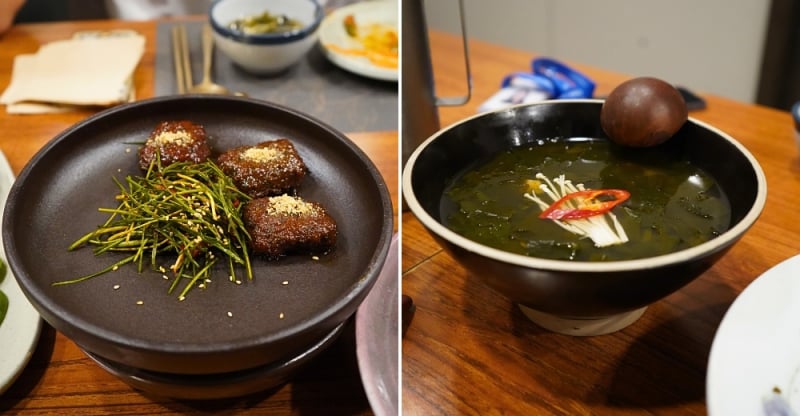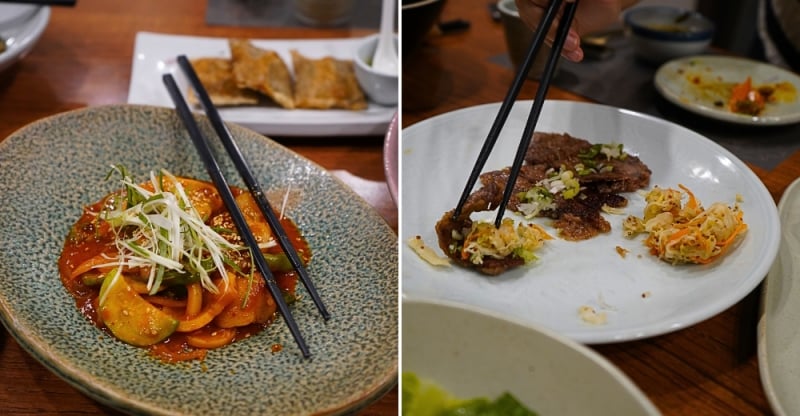 For dinner, we were treated to a full-course Korean-style dinner at Gourmet! The dishes were beautiful and some of them even had beautifying properties — the seaweed soup, for instance. Special shout-out to the meat dishes, which were so juicy and flavourful; the Koreans sure do know how to cook their meat!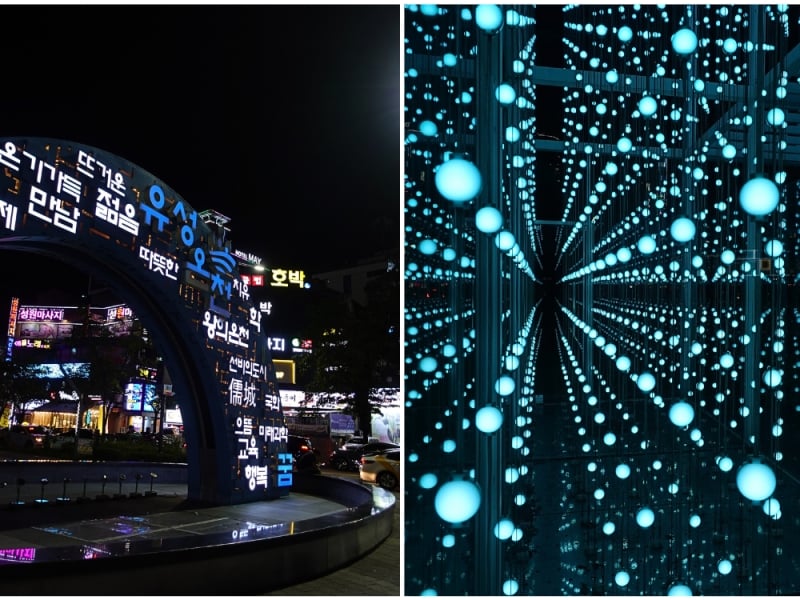 After that sumptuous dinner, I took a walk around the neighbourhood with my camera in hand. I had a ton of fun admiring the dazzling light displays randomly plopped between the buildings. And of course, I had to take loads of pictures of the LED lights.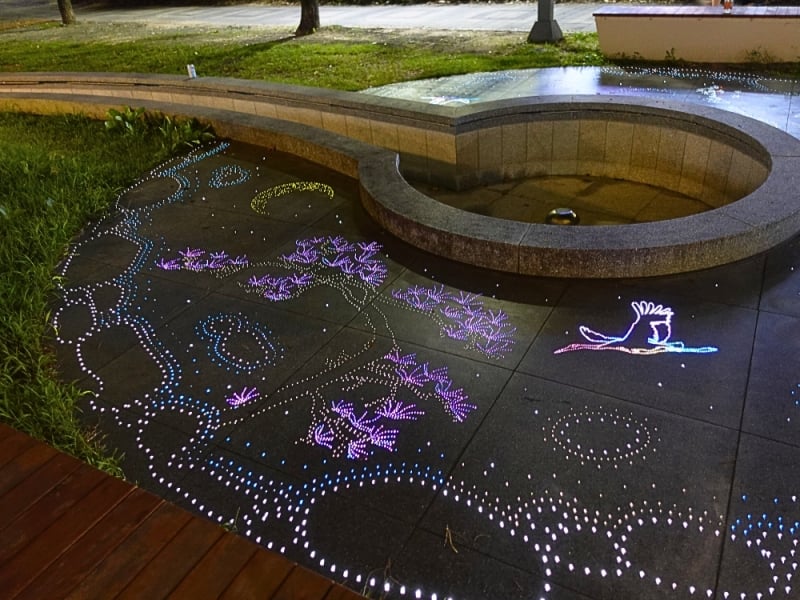 The city truly glistens with beauty.
Day 2
Sights to see in Daejeon: Daecheongho Lake
Our second day began bright and early at Daecheongho Lake. Stretching over three major cities in Korea — from Daejeon to Cheonju-si, Okcheon-gun, and Boeun-gun — Daecheongho Lake is the third largest lake in Korea. It carries 1.5 billion tons of Daejeon's potable water. But beyond its practical utility, Daecheongho Lake is also the filming site of many K-dramas and films, such as Sad Love Story, Seven Years of Night, and The Fatal Encounter.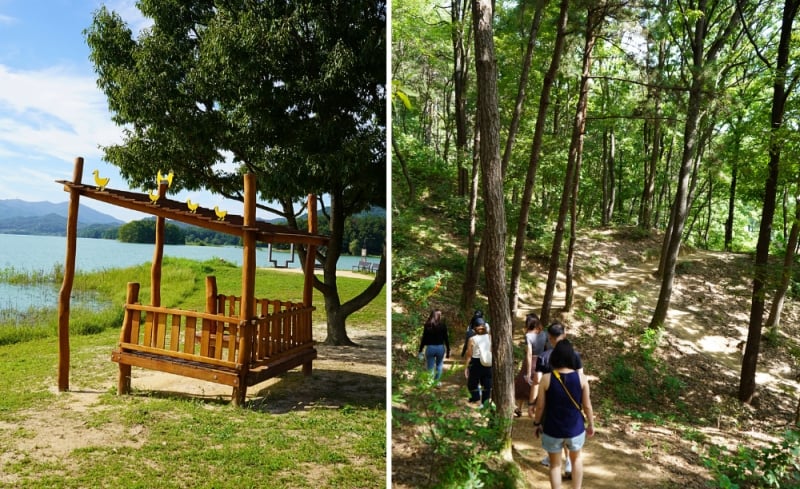 I absolutely loved the tranquility exuded by Daecheongho Lake, which is likely the reason why so many locals love coming here too! As we explored this large lake and park, we saw plenty of locals taking their early morning hikes or walking their dogs. It's a lovely place to get some morning exercise in! And when you need to take a rest: the rustic pavilions, benches, and rest areas are strategically located around the park space for you.
Fun things to do in Daejeon: Learn how to make Songpyeon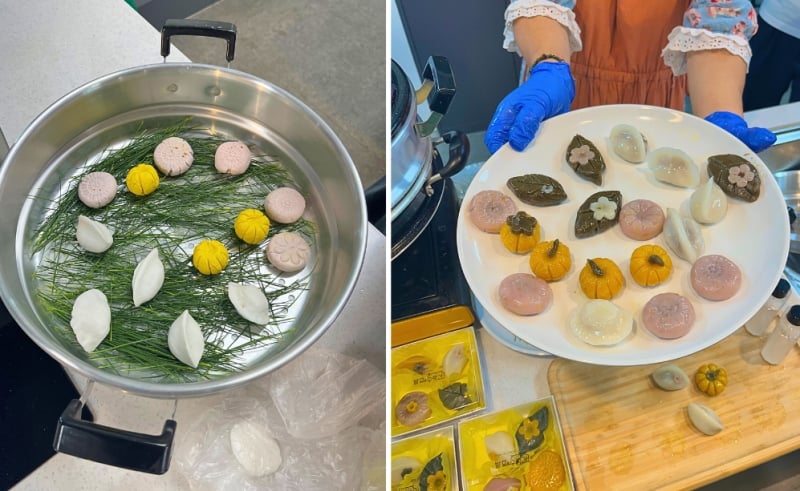 After this relaxing start to the morning, we were whisked away to Nosanchun for one of my favourite activities on this trip — making songpyeon (aka half-moon rice cakes). Songpyeon is the quintessential food during Korean Chuseok (Thanksgiving) celebrations. In fact, the Koreans would make them with their relatives as a bonding activity during the festive period. I absolutely love how adorable the designs were and was ready to make my own.
Within an hour, we were folding, rolling, and filling our doughs before we got our delectable Songpyeon to take back with us! I fell in love with the chewy texture and sweet filling of the rice cakes (As I'm writing this, I've craving for more). Seriously, when visit Daejeon, please attend a class like this — it's one of the best things to do in Daejeon!
Places to visit in Daejeon: The famous Soje-dong Cafe Street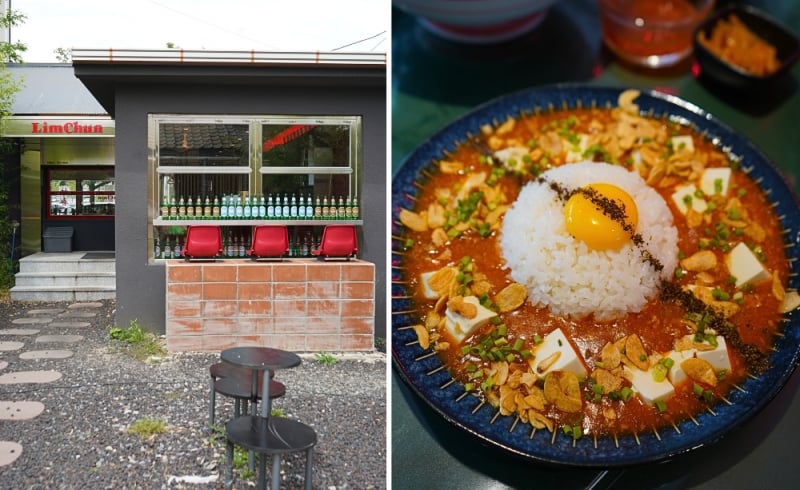 Next stop, lunch! We went to one of the most famous streets in Daejeon, Soje-dong Cafe Street, and dined at an American-Chinese fusion restaurant, Lim Chun. From the mapo tofu to the scallion noodles, every dish was mouthwateringly delicious!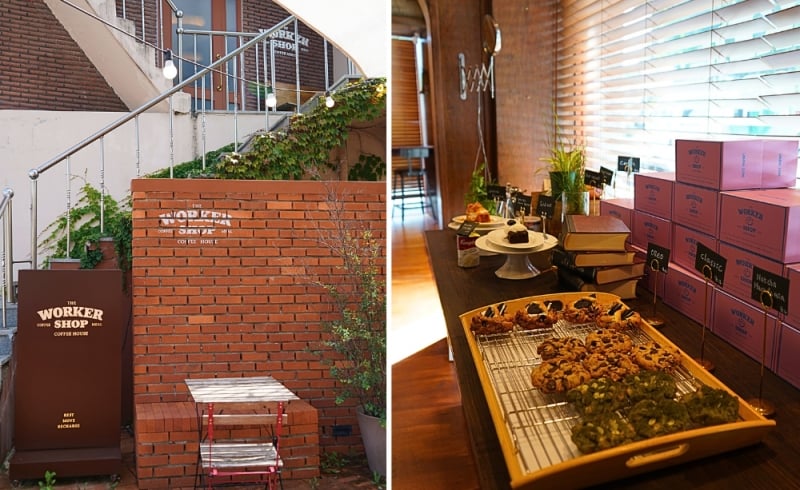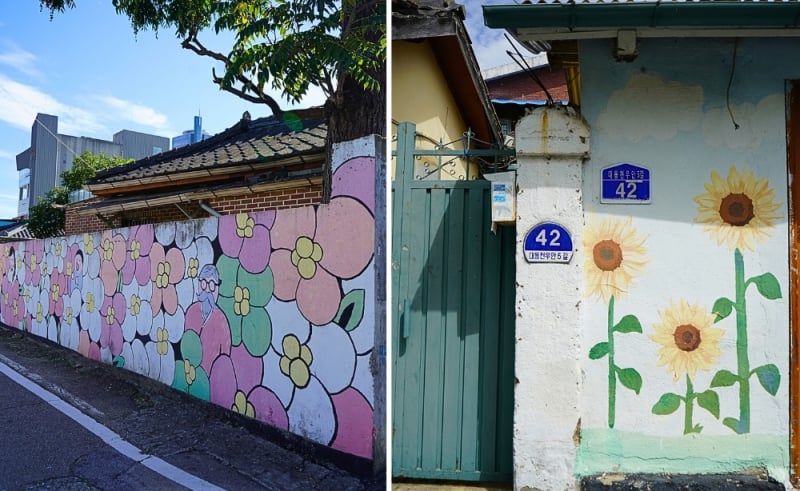 Afterwards, we freely explored the alleyways of Soje-dong, which have an interesting historical background. Soje-dong was once a dormitory for railroad workers during the Japanese' occupation of Korea, but was then converted into a cafe spot by the government!
What makes this area so special is each cafe's unique theming and the plethora of murals along the alleyways. So, to all cafe lovers out there — visiting Soje-dong should be one of your top things to do in Daejeon!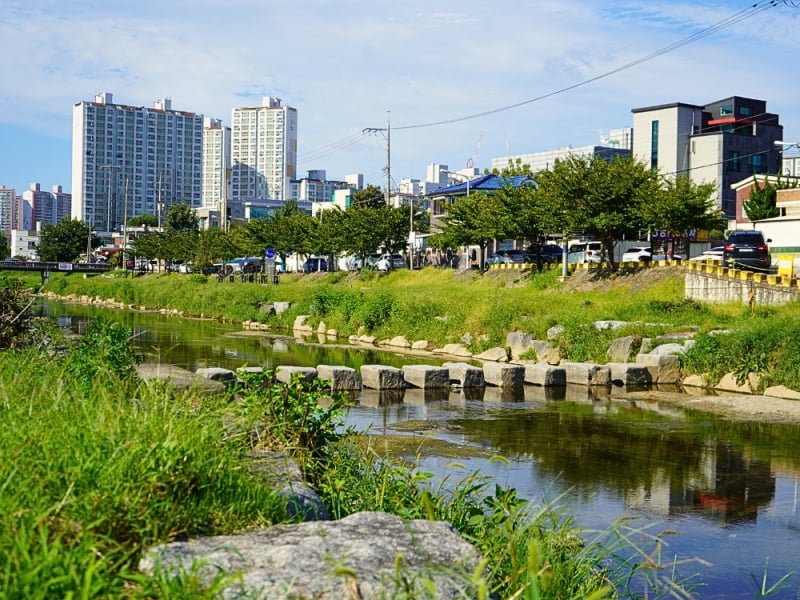 I especially enjoyed walking by the river in the centre of the main street of Soje-dong, the clear blue skies contrasting the grey stone hedges and lush greenery was truly a sight to behold! As it was a weekday, walking along the quiet and fairly empty streets was highly therapeutic.
Sights to see in Daejeon: Admire nature at Sang so-dong Forest Therapy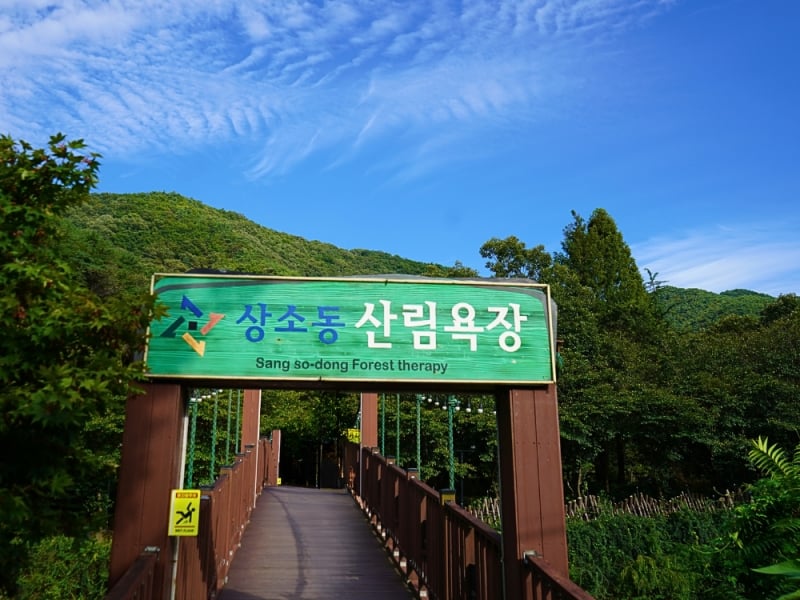 Next, our guide introduced us to her favourite spot in Daejeon: Sang so-dong Forest Therapy! Many Korean families visit the forest for a quick getaway from the hustle and bustle of city life. Located in between two mountains, you can feel your spirit lift up as you walk in. As we walked deeper into the forest, we enjoyed the cool breeze and fresh air that seemed to welcome us.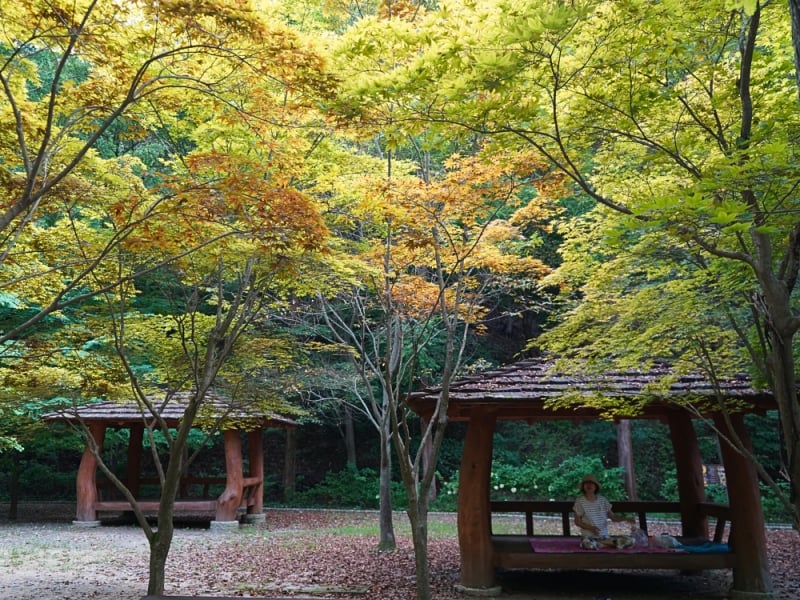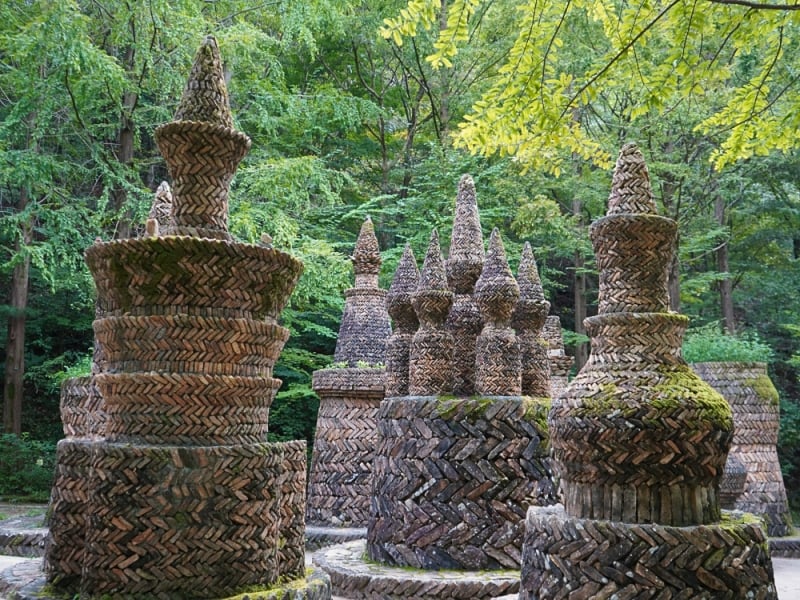 From towering trees to blooming gardens, we truly forgot about the stresses of daily life and took in the nature surrounding us. And we certainly did not miss out the stars of the forest: The stone pagodas, which were painstakingly made by one man over the span of four years. Other than looking beautiful, these structures are an engineering feat! They were created purely out of stone, with no form of adhesive keeping them together. How cool is that?
Places to visit in Daejeon: Explore the Yetteo Folk Museum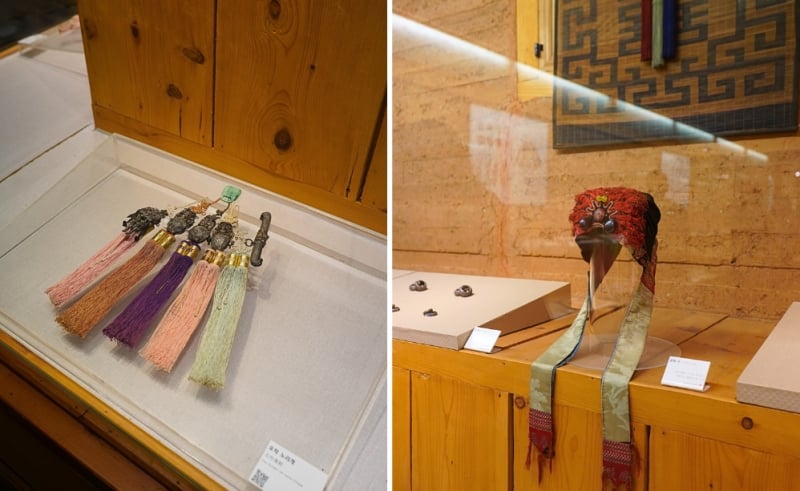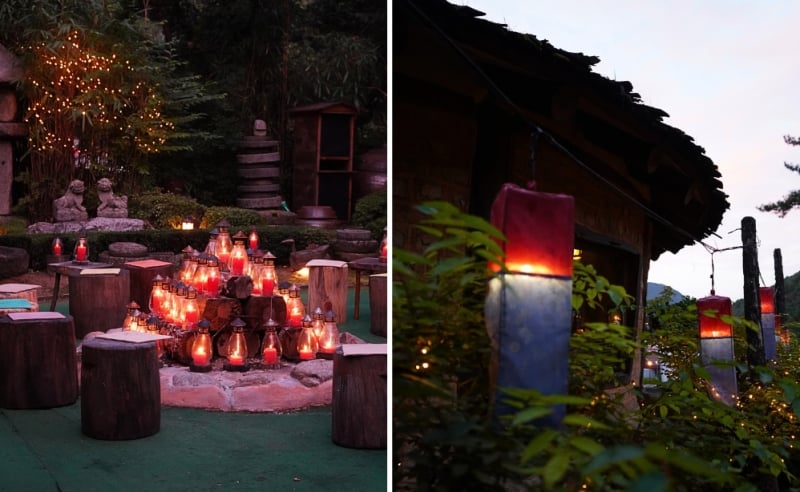 Soon enough, the sun was setting and it was time for dinner. We went over to Yetteo Folk Museum first for a quick history lesson on traditional Korean accessories. It was interesting to learn about the different meanings of the emblems on the Norigae, such as an emblem of a bat meaning good luck! The museum was surrounded by several restaurants and an outdoor display which turns extra dreamy when the sun sets.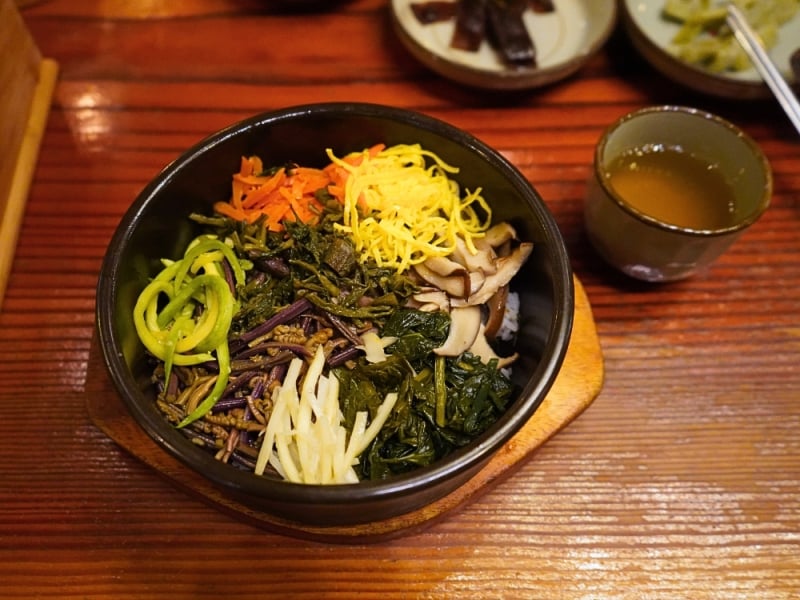 Now, anyone who is familiar with K-food would know what bibimbap (Mixed rice with vegetables) is. But, have you tried vegetarian bibimbap? I was slightly sceptical at first with the unfamiliar vegetables but the dish itself was highly satisfying and filling.
Sights to see in Daejeon: Marvel at the dazzling lights at Daejeon O-World's Night Universe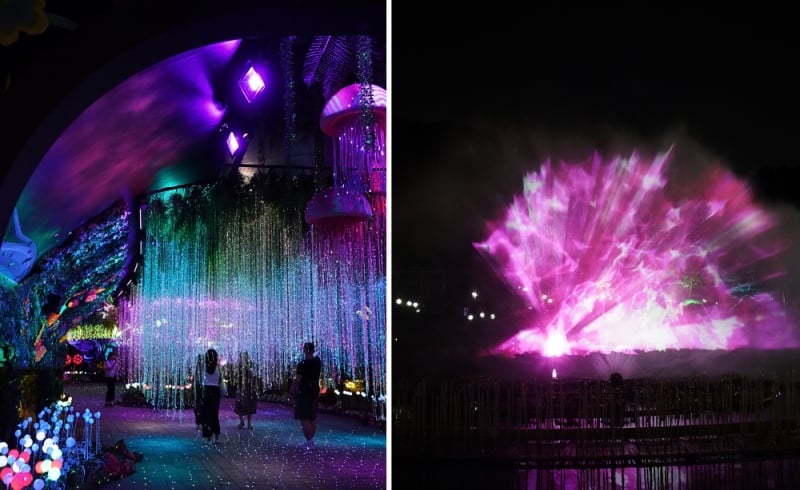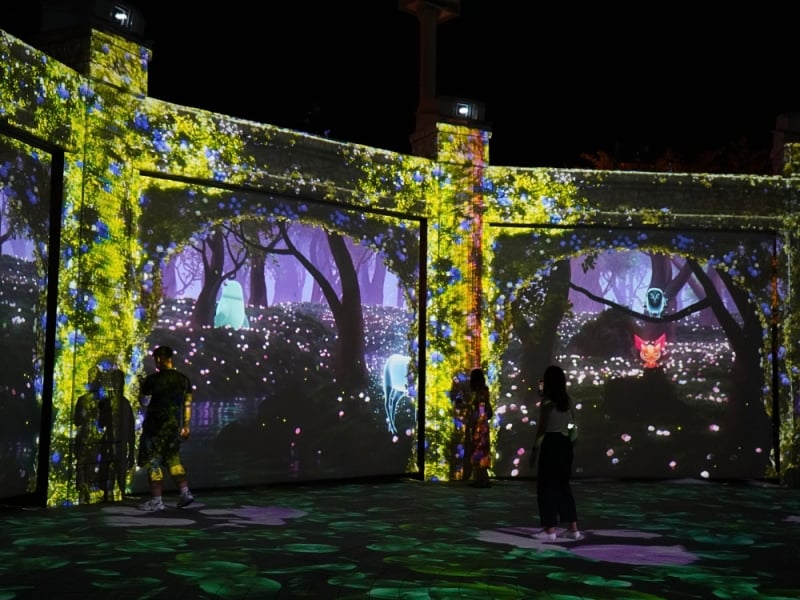 To end the night, we visited Daejeon O-World, a bustling tourist attraction with a flower garden, zoo, and amusement park. But that night, we visited O-World's latest attraction — Night Universe, which opened in 2022. Night Universe utilises the newest digital lighting technology to create beautiful displays of media art. From the dangling LED light displays, to light projections over a water fountain, and even the interactive AR display — each corner of this park was highly Instagram-worthy! While taking photos with your friends here is one of the best things to do in Daejeon, it is also a romantic dating spot for couples who just want to stroll through and enjoy each other's company.
Day 3
Best things to do in Daejeon: Pamper yourself with some beauty treatments
ICYMI: Daejeon is the place to be when it comes to medical and wellness treatments! With eight general hospitals, over 2,000 medical centres, and countless wellness clinics, we had to find out why this city is so famed for its wellness tourism.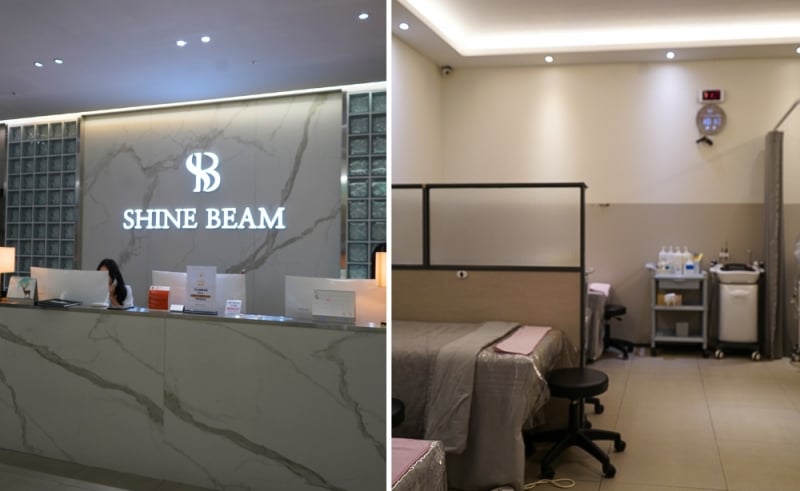 First, we visited Shine Beam, one of the many beauty clinics in Daejeon. But what makes them stand out is their international appeal. Other than having several branches worldwide, they have translators available in the clinic, so you can comfortably do your beauty treatments here even if you aren't well-versed in Korean.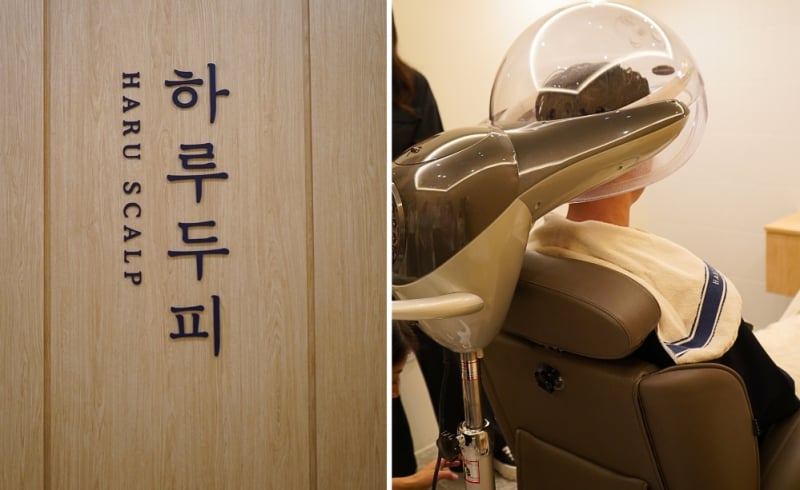 Next, we visited Haru Scalp, which focuses on holistic and non-invasive care for scalp issues. From the customised scalp analyses, to the therapeutic scalp massages, the relaxing interior of the clinic — you'll be completely able to relax here!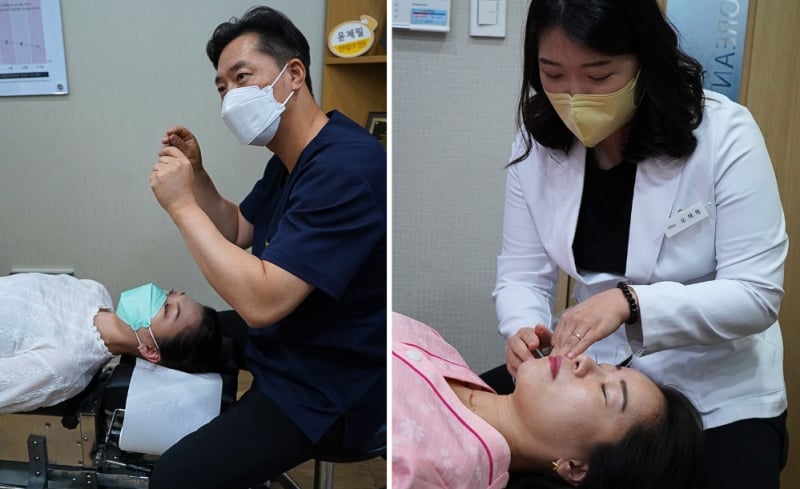 Finally, we visited Phil Hospital of Korean Medicine, which specialises in non-surgical joint and spine treatment. We observed some of the common medical treatment procedures they perform, like beauty acupuncture and Chuna traditional medicine therapy. Did you know that these treatments are offered at only 70-80% of the cost offered in Seoul? So, it's really no wonder that doing multiple wellness treatments in a day is one of the most popular things to do in Daejeon.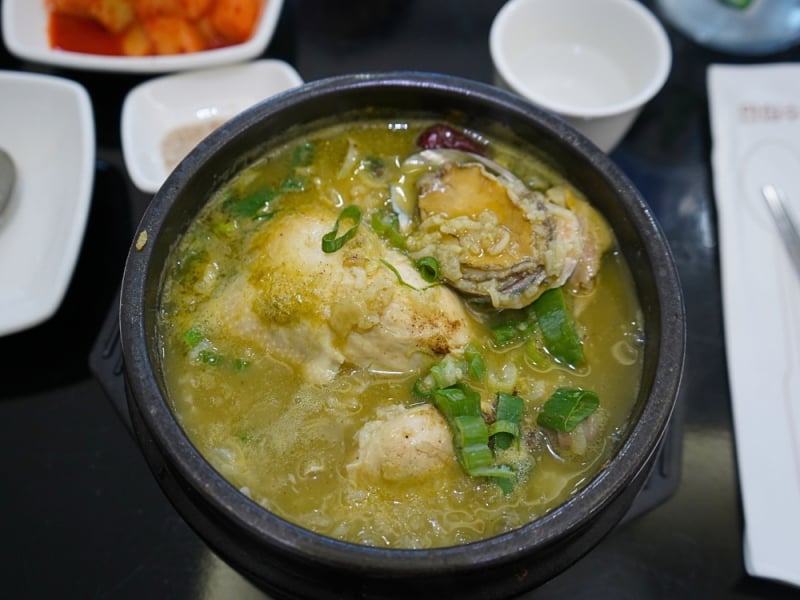 Next stop: Abalone Manse for… You guessed it — Abalone samgyetang. Samgyetang (Ginseng Chicken Soup) is another quintessential Korean dish that you have to eat when you're in Korea. But what makes this special is the addition of a voluptuous abalone, which turns the broth slightly green. Nonetheless, this makes the dish so rich in flavour!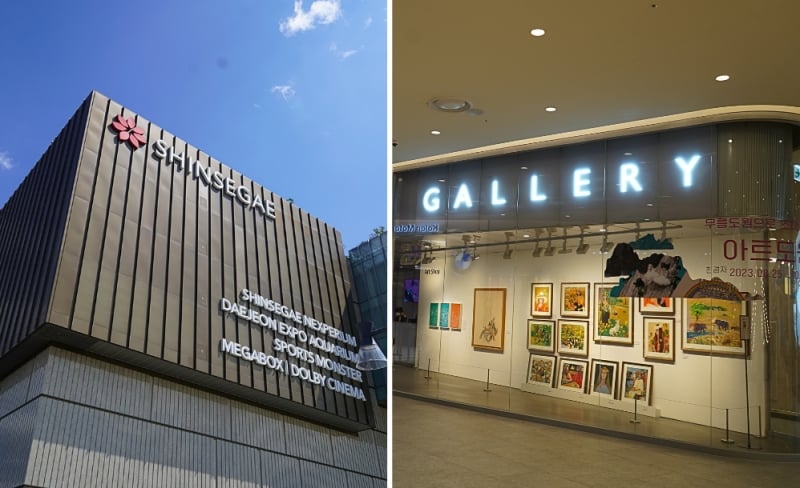 Afterwards, we headed over to Daejeon Shinsegae Art & Science — a mammoth of a department store — with an aquarium, gallery, and experience centre!
Fun things to do in Daejeon: Admire the aquatic life in Daejeon EXPO Aquarium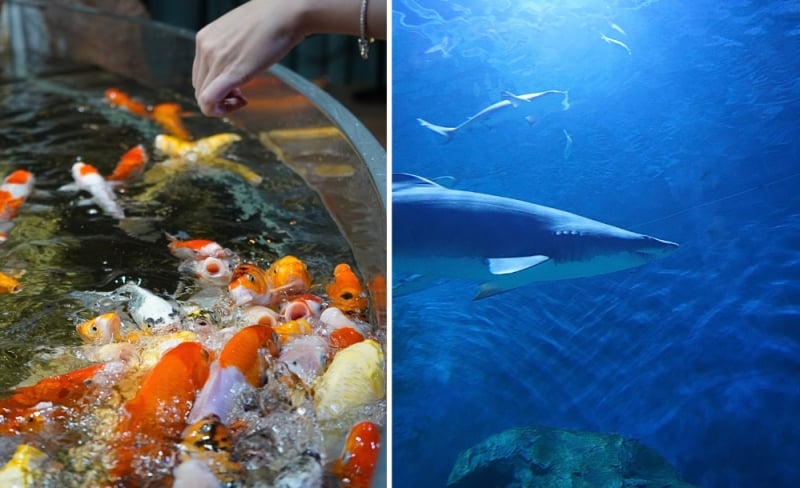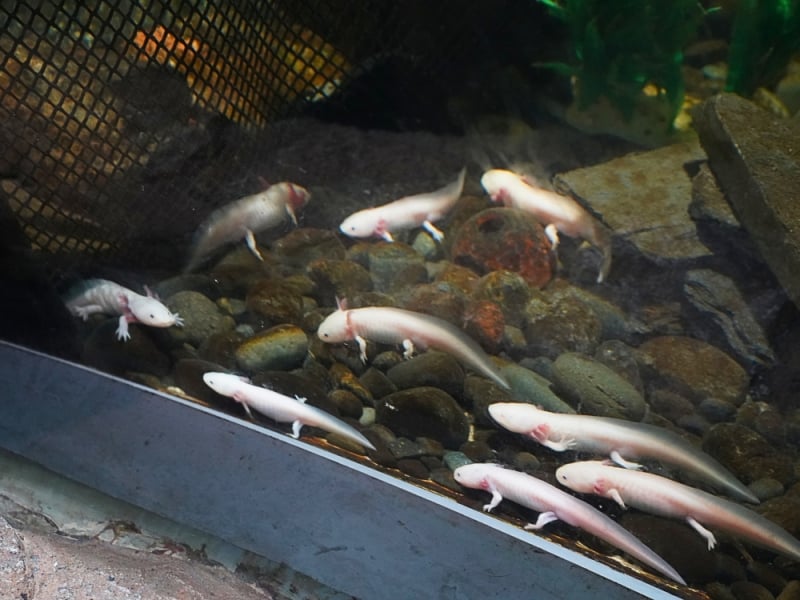 Located in the basement of Daejeon Shinsegae is the Daejeon EXPO Aquarium, which integrates the usual aquarium affair with cutting-edge technology. The greek mythology-inspired decoration first captured my attention. But as we continued on our tour around the aquarium, I was amazed at the range of aquatic life housed here — deep-sea octopi, colourful koi fish, and even exotic axolotl!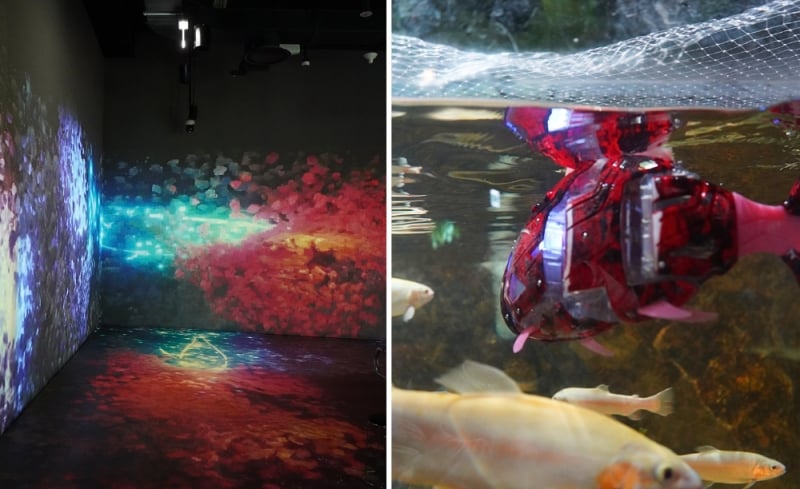 Moreover, there are tons of activities sprinkled throughout the aquarium — you could feed the koi fish, touch the infamous "doctor fish", and even ride in a boat the tank. We were also impressed with the way technology was incorporated into the aquarium — from the AR projections, to holograms, even robot fish used for research.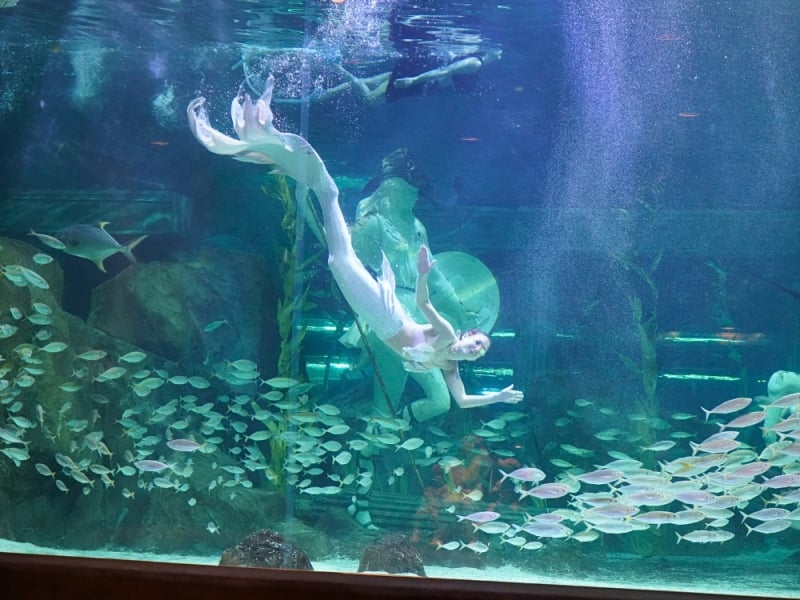 Before we ended our tour of the aquarium, we enjoyed a truly unforgettable underwater ballet performance! The performers danced swimmingly amongst the aquatic animals along to the tunes from The Little Mermaid and The Nutcracker. We rushed up to the front of the glass as soon as the performance was over — where the performers waved and posed for photos. My verdict: this is a top Daejeon attraction that absolutely should be on your itinerary to Daejeon.
Best places to visit in Daejeon: Hyundai Premium Outlet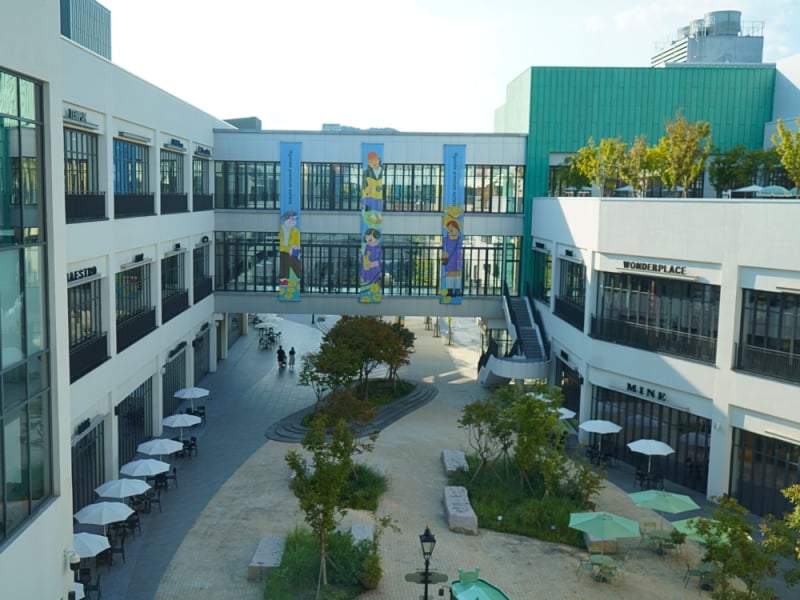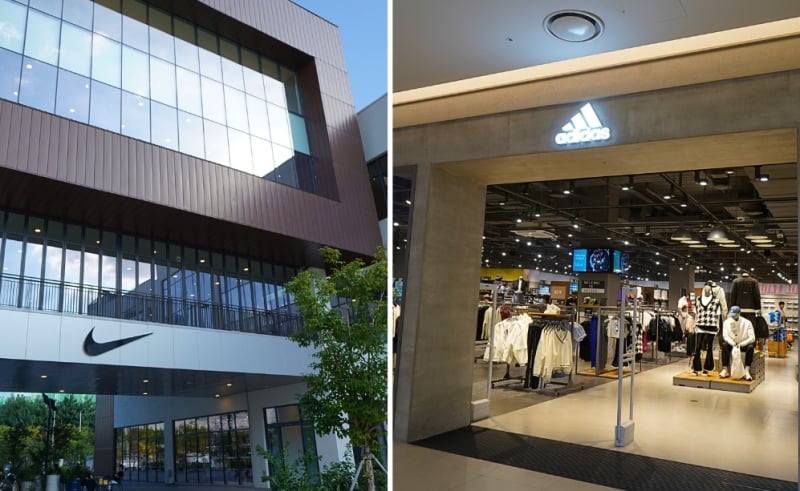 Our final stop of the day was the Hyundai Premium Outlet Daejeon, which had recently opened its doors after a nine-month closure. This 3-storey premium outlet has practically everything you need, from global brands to Korean brands. It's also home to the largest Nike and Adidas outlets in the city. When the weather cools down, the outlet mall staff will open the windows, transforming Hyundai Premium Outlet into an open-spaced mall. What wouldn't I give to be back here when spring arrives!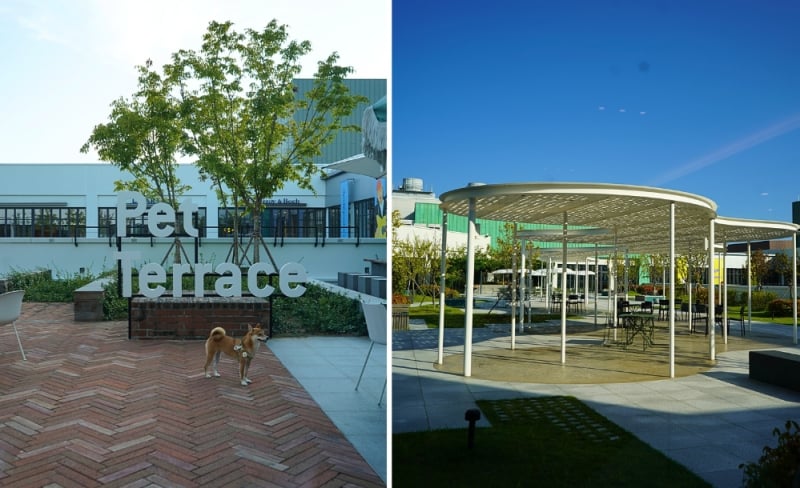 From the indoor gyms for children; to spa treatments for adults; even a pet terrace on the rooftop — there are just so many activities available here. So, as you plan for your trip to Daejeon, make sure to include this top Daejeon attraction in your itinerary!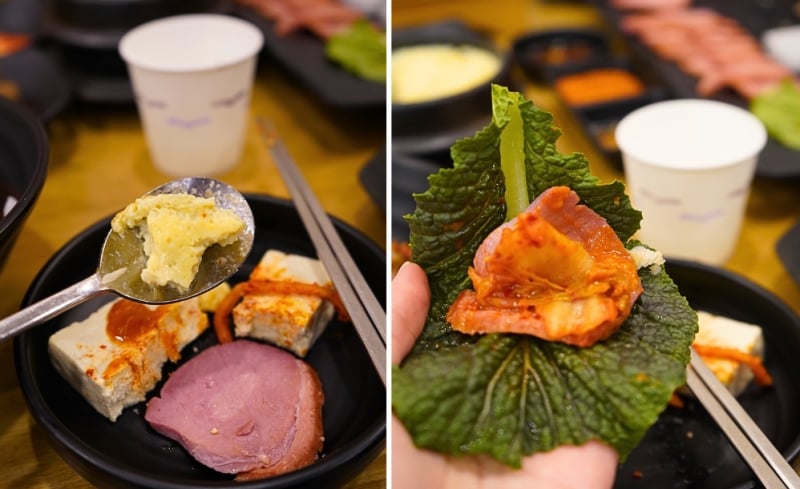 We were in serious need of some refuelling after all that walking, so we headed over to Manseokjang, located on the third floor of Hyundai Premium Outlet Daejeon. What's unique about this restaurant is its delicious firm tofu, which complemented the bossam (boiled pork wrapped with napa cabbage) delectably! But I really loved adding the smoked duck to my vegetable wraps. It's definitely something I have the next time I'm having bossam back home.
Fun things to do near Daejeon: Stay in a traditional Korean hanok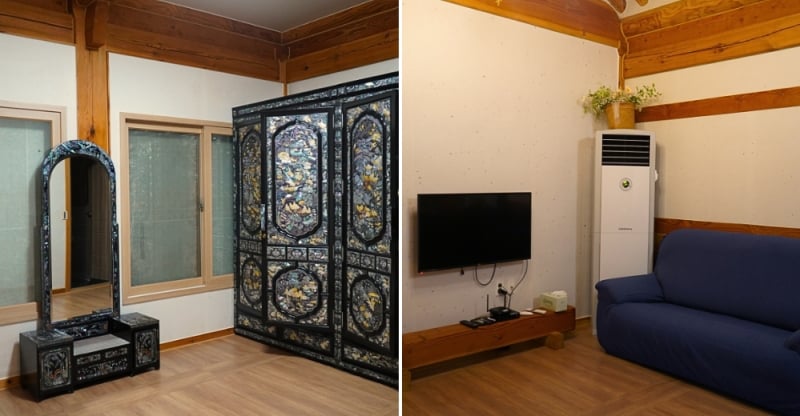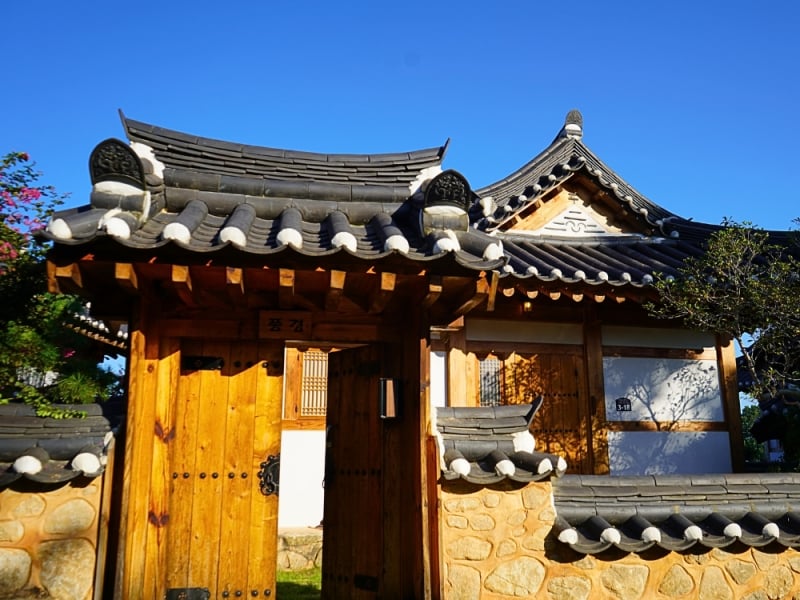 Finally, we were transferred to Buyeo, a countryside located about an hour away from Daejeon. We stayed the night in a hanok (traditional Korean house) at Sabihanok, to truly immerse ourselves in Korean culture. Known for their tiled roofs, wooden beams and overall cosy atmosphere, I instantly felt at home upon stepping into the house.
Day 4
Best things to do near Daejeon: Ride a hot air balloon in Buyeo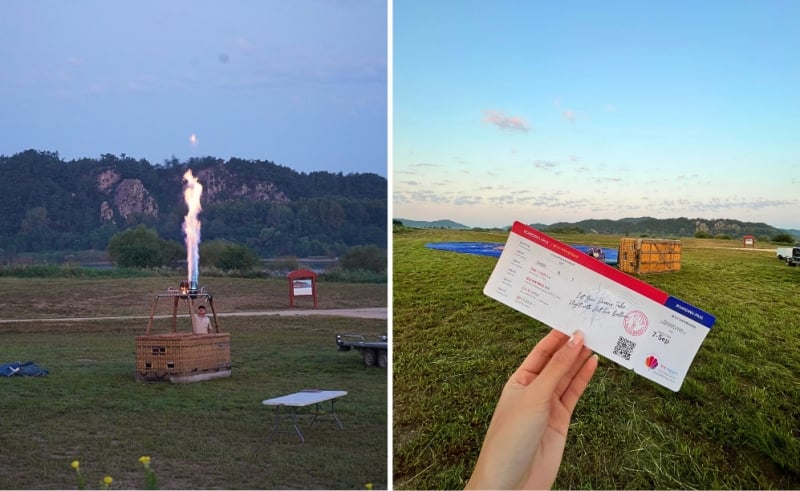 This day was by far, the longest day I had on this trip. It started off even before the sun rose for a sunrise hot air balloon ride. Flying in a hot air balloon has been on my bucket list for a long time, so this will be one of the few times that I'm excited to wake up before dawn…
While watching Buyeo Sky Banner set up the balloon, we learnt that this hot air balloon ride is designated as one of the top ten themed travels by the Korea Tourism Organization. In fact, Buyeo is the only place in Korea where you can do this. Knowing this fanned the flames of excitement within us as we quickly boarded the balloon basket for the flight of our lives.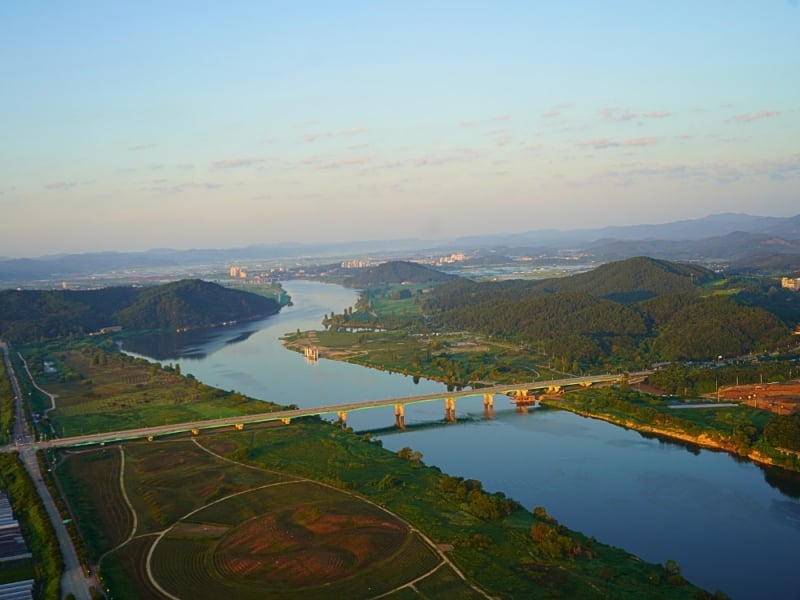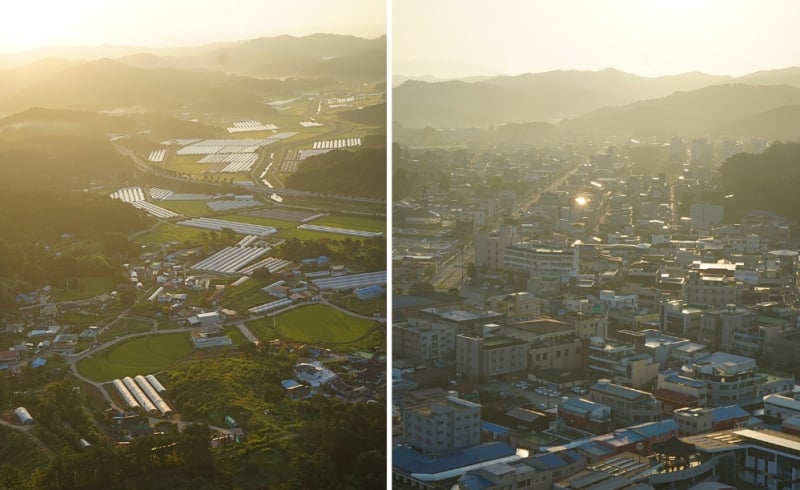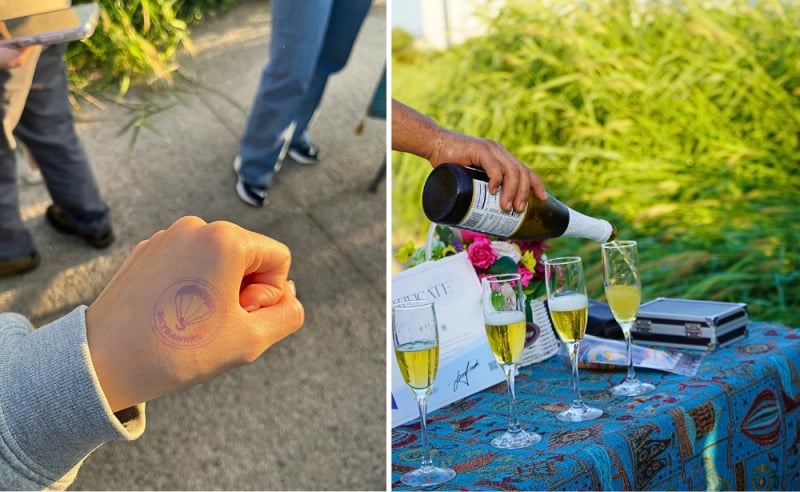 The ride was absolutely exhilarating! The basket took us over the Baengmangang River and we were treated to a magical view of this town, buildings painted in hues of gold. The flight lasted for about 40-minutes before we made a smooth landing on the other side of the river. We then enjoyed some non-alcoholic, sparking cider to celebrate the successful flight and landing. We even got a certificate for completing this flight! Undeniably, this activity is one of the best things to do near Daejeon.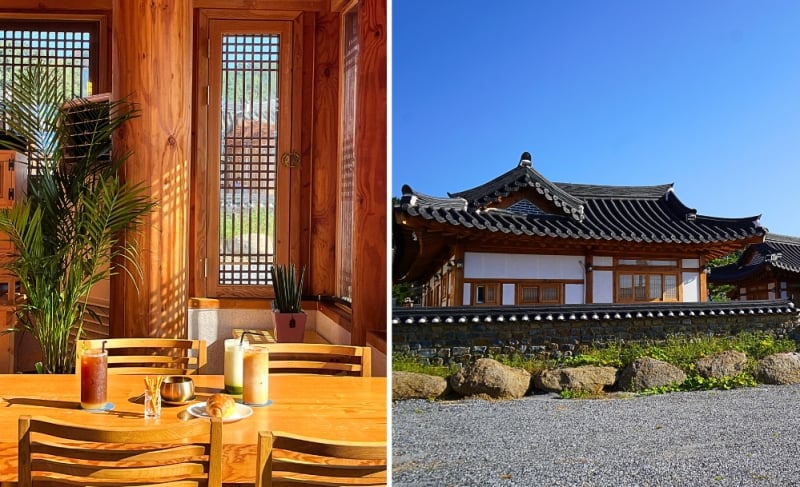 After that magical hot air balloon ride, we headed to a cafe close to our accommodation to grab a snack! The cafe's interior design resembled that of our Hanok, and felt equally as homely! If you're a cafe aficionado, you'll be familiar with the craze over salt bread. So — of course — we had to get some!
Sipping on my matcha latte while munching on the savoury salted bread in this picturesque, aesthetic cafe was insanely rejuvenating… I wished we could have stayed there longer, but off we went to the next part of our adventure.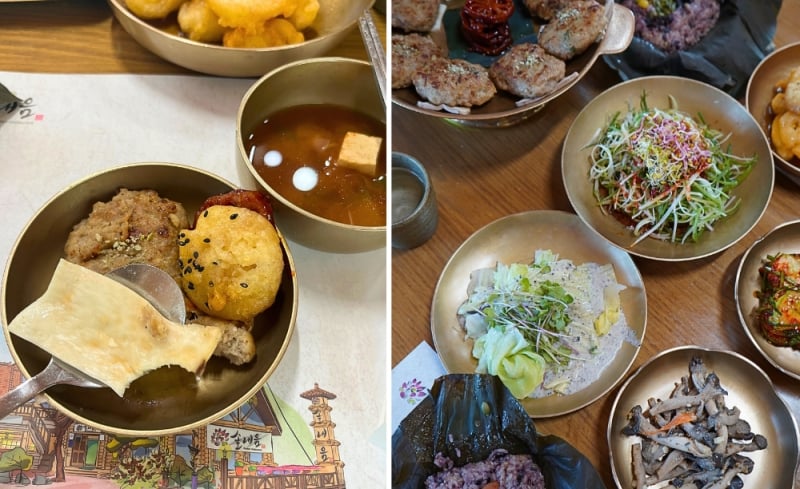 We were served some delicious tteokgalbi (grilled short rib patties) at Solnaeeum Restaurant for lunch. These patties were unbelievably juicy, and the deep-fried lotus was a favourite. The restaurant was extremely generous with their side dishes; I wished I had a bigger stomach so I could eat more!
Fun things to do near Daejeon: Learn about Korean history at the Baekje Cultural Land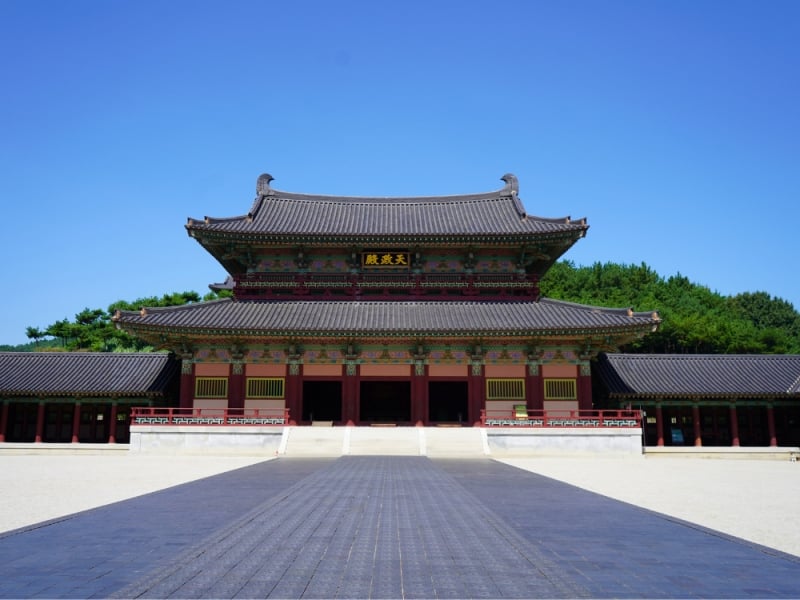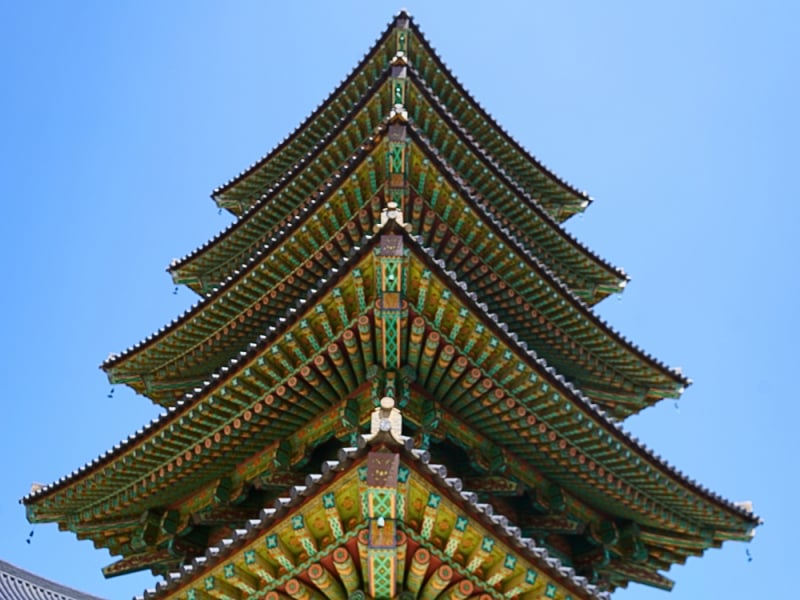 Fun fact: Buyeo holds much historic significance in Korea's heritage. During the Baekje period, Buyeo was one of the Three Kingdoms in Korea. As such, a reconstruction of the Baekje period was built in Buyeo, at the Baekje Cultural Land — with replications of ancient palaces, temples, and towns!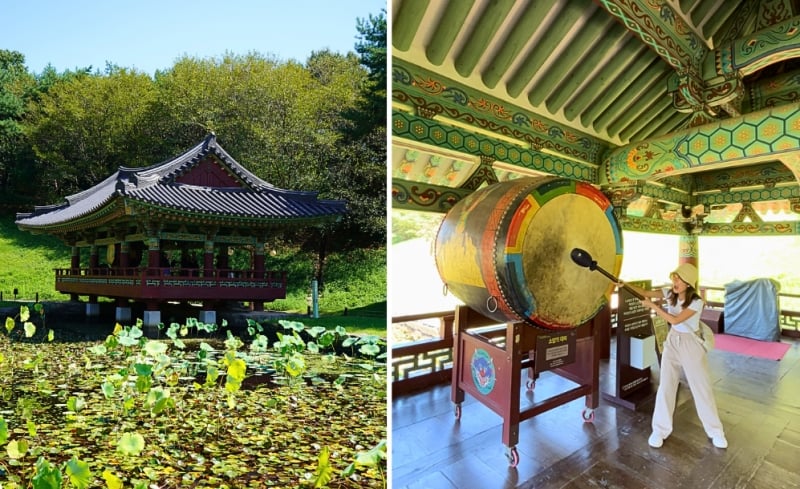 This history-themed park was practically empty on weekdays, so I could get some shots without "extras" in the background! Apart from being educational, there were activity spots all around the temple — from stamps to photo points in the buildings.
Fun things to do near Daejeon: Take an amphibious bus tour of the town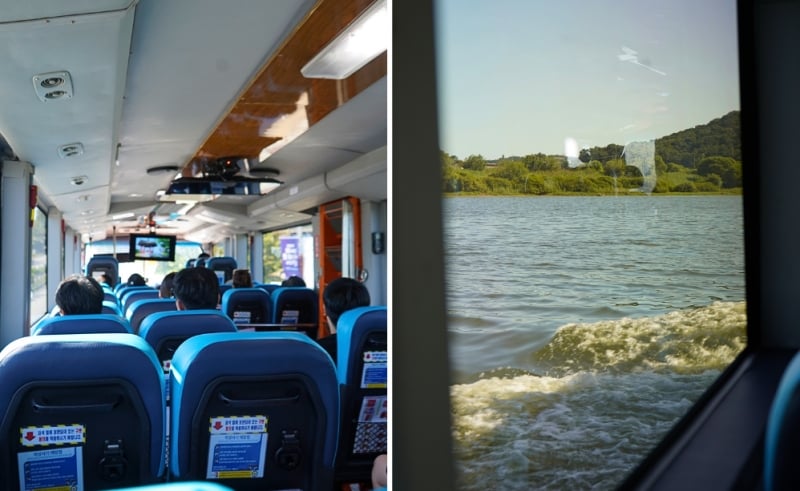 Before we headed back to Daejeon, we boarded an amphibious bus tour that took us around the town and into the river! I was surprised at how comfortable this ride was, the air-conditioning is perfect for a hot summer afternoon like this.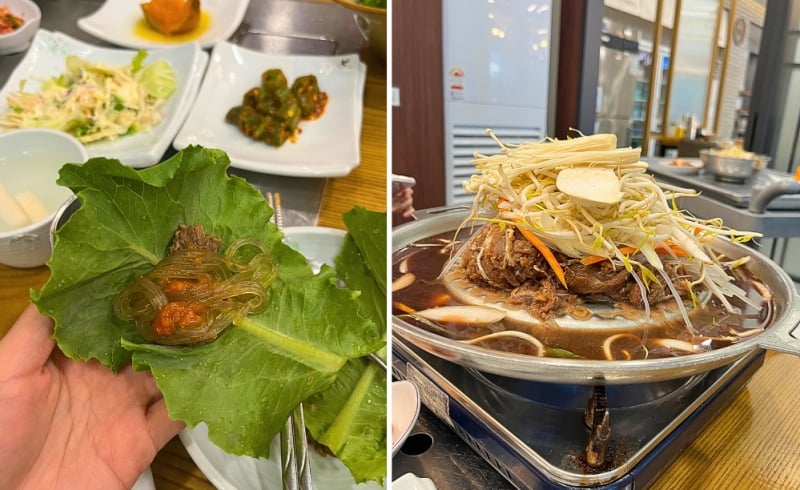 The first order of business when we were back in Daejeon was dinner. We were served some comforting Korean affair at Sariwon Myeonok — bulgogi (grilled beef) and a summer-time favourite, naengmyeon (cold noodles).
Places to visit in Daejeon: Visit the famous Sungsimdang Bakery and Sky Road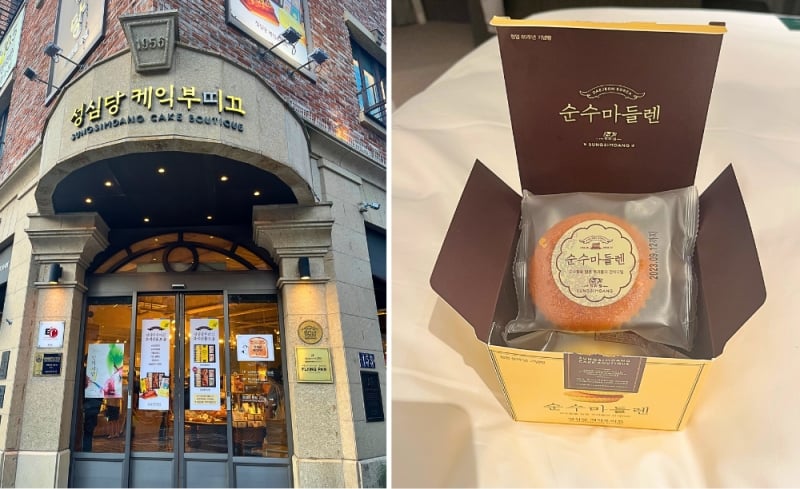 Before I left for this trip, my Korean friend told me: "If you're in Daejeon and you don't visit Sungsimdang Bakery, it's as if you've not been to Daejeon at all!" This Michelin star Daejeon attraction is the place to visit when you're here; seeing as locals rushed into the bakery, grabbing boxes of baked goodies.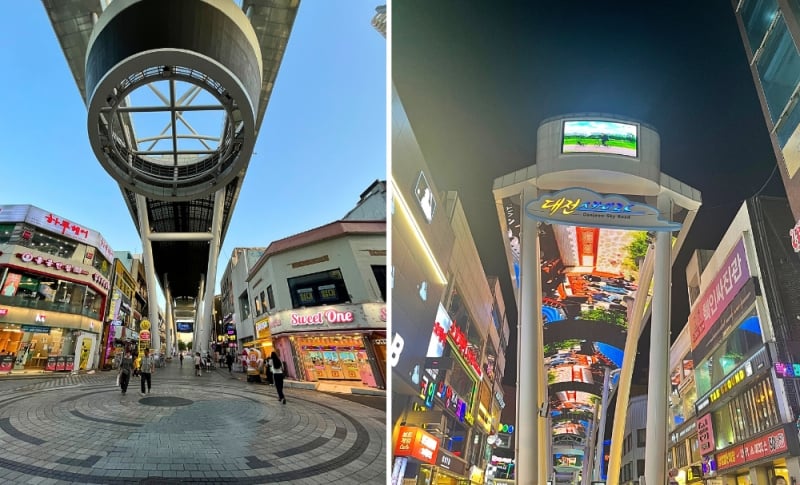 The bakery is located on Sky Road of Euneujeongji Culture Street, a lively and bustling shopping street that is reminiscent of Seoul's Myeongdong shopping district. Each shop and alleyway captured my attention — from boutiques selling clothing, accessory stalls, and even adorable sticker shops! The highlight of this street is the LED screens above the main walkway, which project advertisements and captivating animations. If you're in need of some last-minute shopping, Sky Road is definitely a must-visit in Daejeon!
Day 5
Best things to do in Daejeon: Attend the Daejeon International Wine EXPO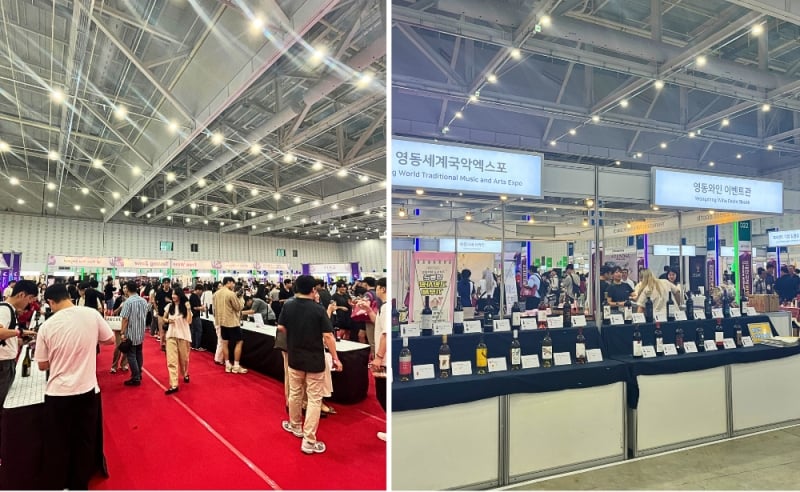 On our last day of the trip, we attended the Daejeon International Wine EXPO, Korea's only international wine festival, at the Daejeon Convention Centre. This convention featured wines from all over the world, as well as Korean snacks!
Places to visit in Daejeon: Expo Bridge and EXPO Hanbit Tower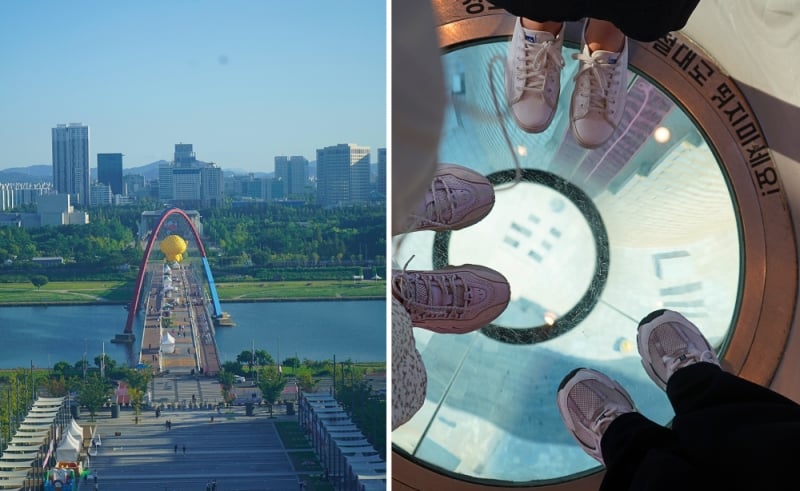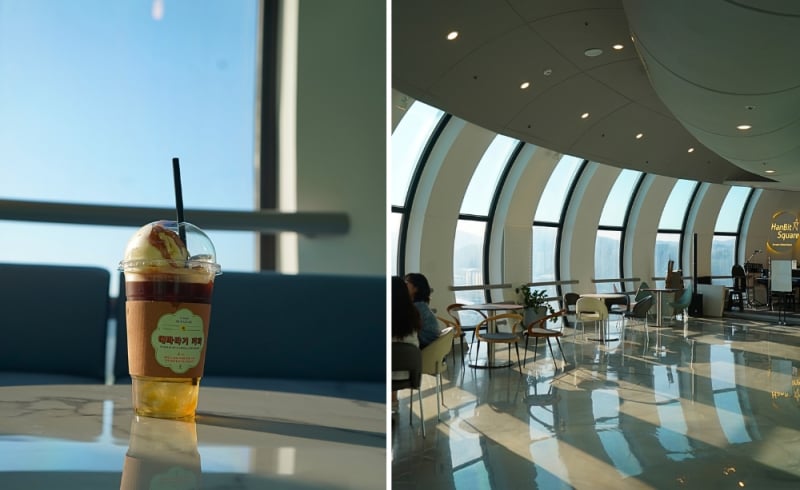 After the convention, we went up the Hanbit Tower to take in the views of the Daejeon EXPO Park. Plus, admission to the viewing deck is free! We sipped on some coffee at their cafe while we enjoyed in the bird's eye view of the park.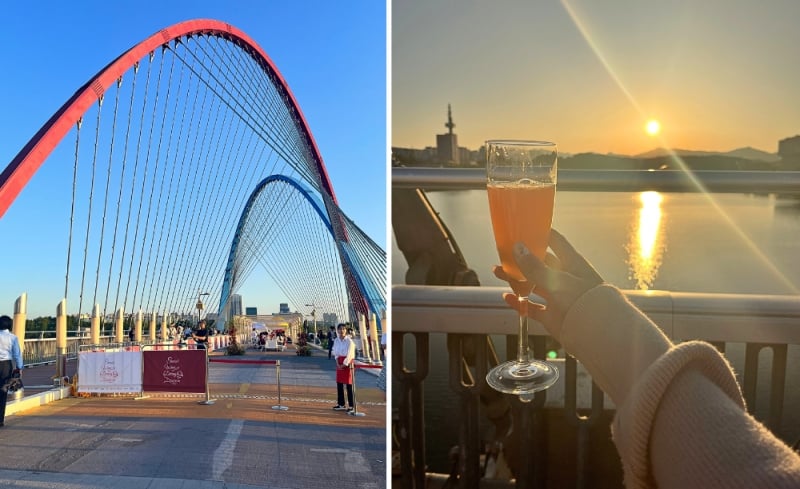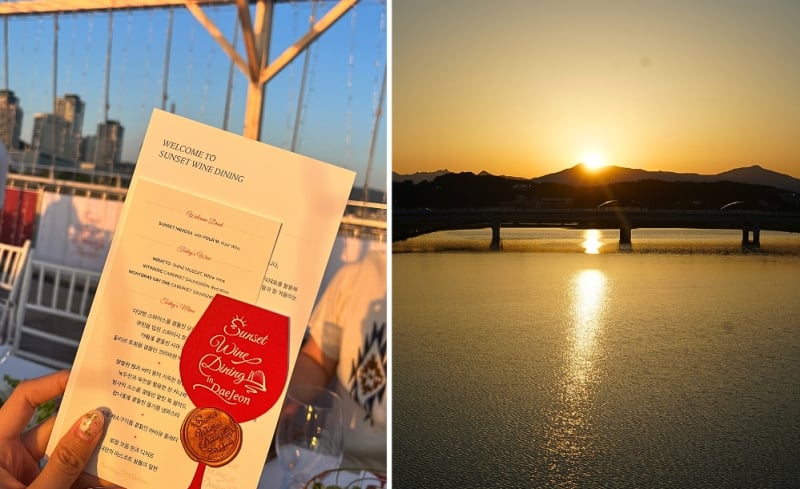 Finally, we've come to our last meal in Korea. And of course, we had to end the trip with a bang! We attended an exclusive sunset wine dining experience along the famed Expo Bridge, which was decorated with fairy lights to create a magical atmosphere. We arrived as the sun was setting and took the opportunity to take plenty of "golden moments" shots. Watching the sun disappear into the glistening river was unforgettable!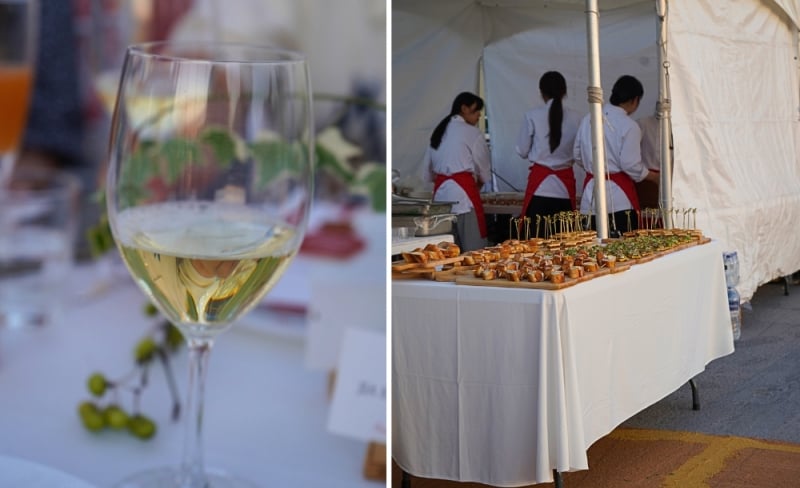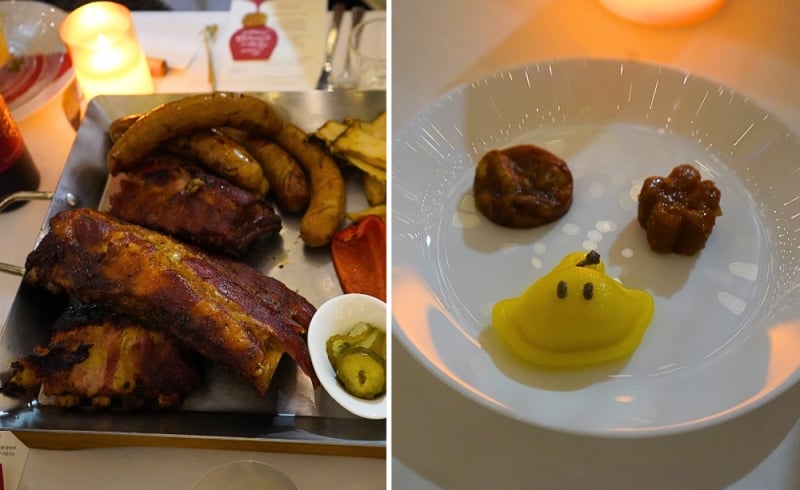 This gastronomical experience offered some of the best, award-winning wines to pair perfectly with the courses that came along. From the music to the decorations, it was certainly a night to remember!
Also read: 15 Underrated Places in South Korea That You Should Experience
This was my first time in Daejeon and my first work trip, but the experiences and memories created on this trip have made this 5D4N trip all the more memorable. Daejeon has everything you would want for a trip to Korea — Food, shopping, culture, and even more! I'm planning to return to Daejeon with my friends. And I'll definitely so do in autumn to enjoy the cool breeze and colourful landscapes!
---
Special shout out to the Korea Tourism Organization and Daejeon Tourism Organization for inviting me on this memorable trip! All images are credited to Beautrice Oh.